Baltimore County Pool Removal
This recent project involved the removal of a vinyl liner lap pool in Baltimore County. The homeowner, a very elderly gentleman in his 90s, worked with us to get this project completed. The family intended to get the house ready for sale, and they knew that a swimming pool of poor condition in the woods would not be a selling point. Therefore, they called Carroll Brothers Contracting to remove it. Overall, the results of the Baltimore County pool removal were quite astounding.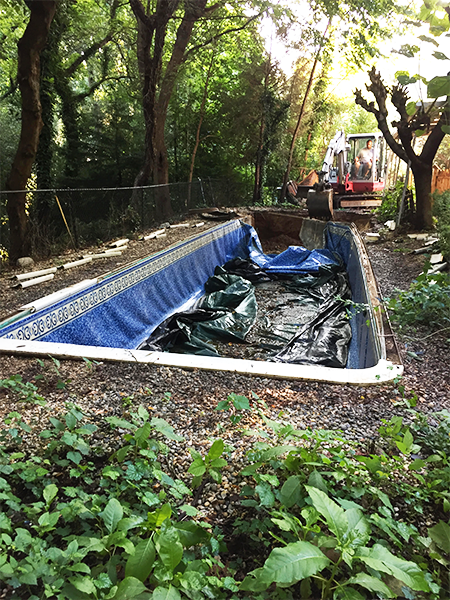 The Final Product
Once the homeowners contacted us for help, we formulated a plan and found that the best course of action was to demolish and fill in the pool. The first step in removing the pool was to drain the remaining water out of the pool and remove the vinyl liner. Then, we broke up the concrete pool and hauled away all of the materials. We then regraded the yard and filled in the excess space with topsoil. The results of the project display an open backyard that serves as a clean slate for everyone. The current homeowners can now feel confident in selling their property. Additionally, prospective buyers will have the opportunity to design the yard to fit their lifestyle.
If you have an in-ground pool that your family has outgrown, has fallen into disrepair, or you have inherited and did not plan to use, call Carroll Bros. Contracting and Pool Removal. Our team will evaluate your situation and offer a fair estimate. Most importantly, you can trust us to work efficiently and quickly. That way, you can reclaim your backyard space. Schedule an appointment with us today!