Concrete Pool Removal in Linthicum Maryland
This Concrete Pool Removal in Linthicum Maryland starts like many of our stories, the homeowners owned the house and pool for a long time, using it and maintaining the pool perfectly when their kids where younger but as they got older and their lives got busier the pool got left in the dust.
Before Concrete Pool Removal in Linthicum Maryland
As life got busy, the pool became an after thought for these home owners, and eventually the price to repair the forgotten about pool just became to much, and the best most cost effective option was to have the pool removed. Access to this yard was tight, and we had to remove parts of the privacy fence to gain access, this yard also had major draining issues, so once we got access to the back yard we planned to address that as well.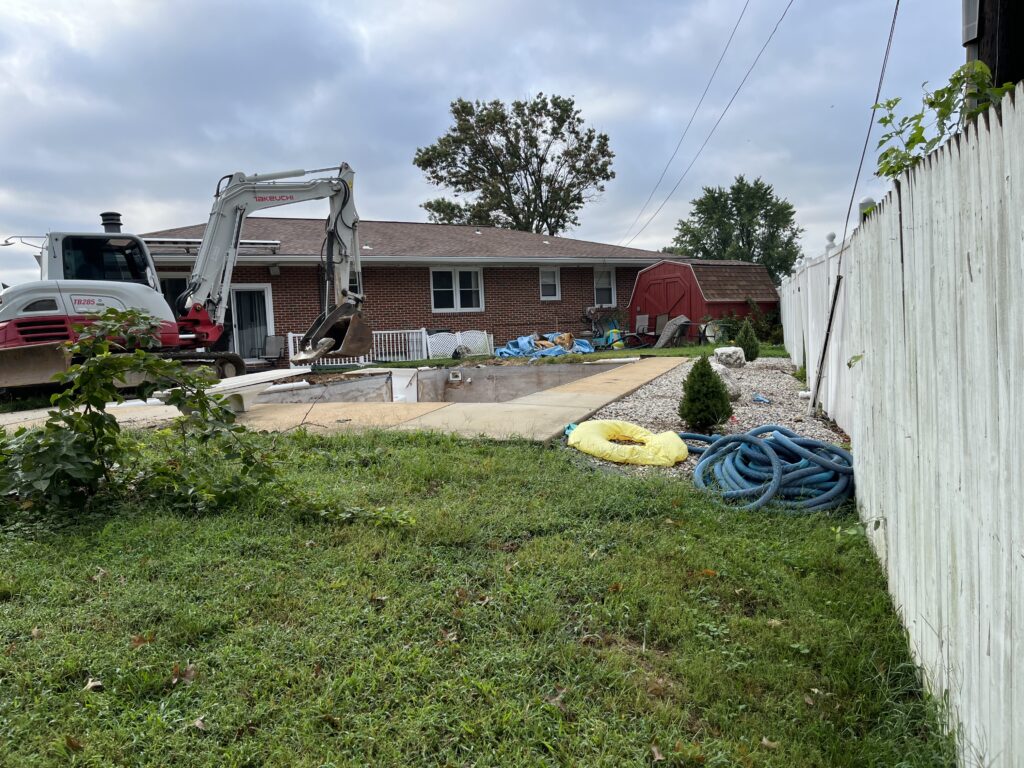 After Concrete Pool Removal in Linthicum Maryland
As you can see from the picture above this yard had tight access but we were able to remove part of the fence, gain access and start removing the pool, patio, and stone garden area to the side of the pool. Once we got the pool removed and the hole filled with dirt, we are were able to start regrading the entire yard in order to help with drainage issues pre-existing on the property. Finally we added seed, straw and top soil and in a few short weeks this home owner had a brand new functional back yard, with the eye sore of a pool out of the way.
If you have an in-ground pool that your family has outgrown or has fallen into disrepair, call Carroll Bros. Contracting and Pool Removal. Our team will evaluate your situation and offer a fair estimate. Most importantly, you can trust us to work efficiently and quickly. That way, you can reclaim your backyard space. Schedule an appointment with us today!