Concrete Pool Removal in Upper Marlboro Maryland
For this Concrete Pool Removal in Upper Marlboro Maryland, the homeowners were older and when it came time to rehab the pool they realized the job was bigger than initially anticipated, which left them with a hard decision.
Before Concrete Pool Removal in Upper Marlboro Maryland
Once the home owners had someone out to give them a quote on repairing the pool, they realized it was more than a make over on the pool to get this pool back to operational. They realized the plumbing in the pool, the wood deck and patio around the pool, and some other structural issues with the pool would all need to be addressed to get the pool and patio both operational and safe. The home owners being older, didn't have kids or grandkids who were around or used the pool often, so they decided it was more financially responsible to remove the pool all together and regain their back yard.
After Concrete Pool Removal in Upper Marlboro Maryland
As you can see this was a large pool, with a wood deck and concrete patio around the pool. The pool was also built in the high spot of the yard, leaving a lot of grading work to do. Once we were able to get the pool removed, we got to work carefully removing the lower decking, so not to harm the raised deck attached to the house, we also ripped out the current concrete patio and wood gazeboo. We then got to work back filling the hole and grading the yard. Soon we had our clients with a usable back yard that drained perfectly, and the eye sore of an old, non functional pool out of the way. We finished it off with seed, straw and top soil.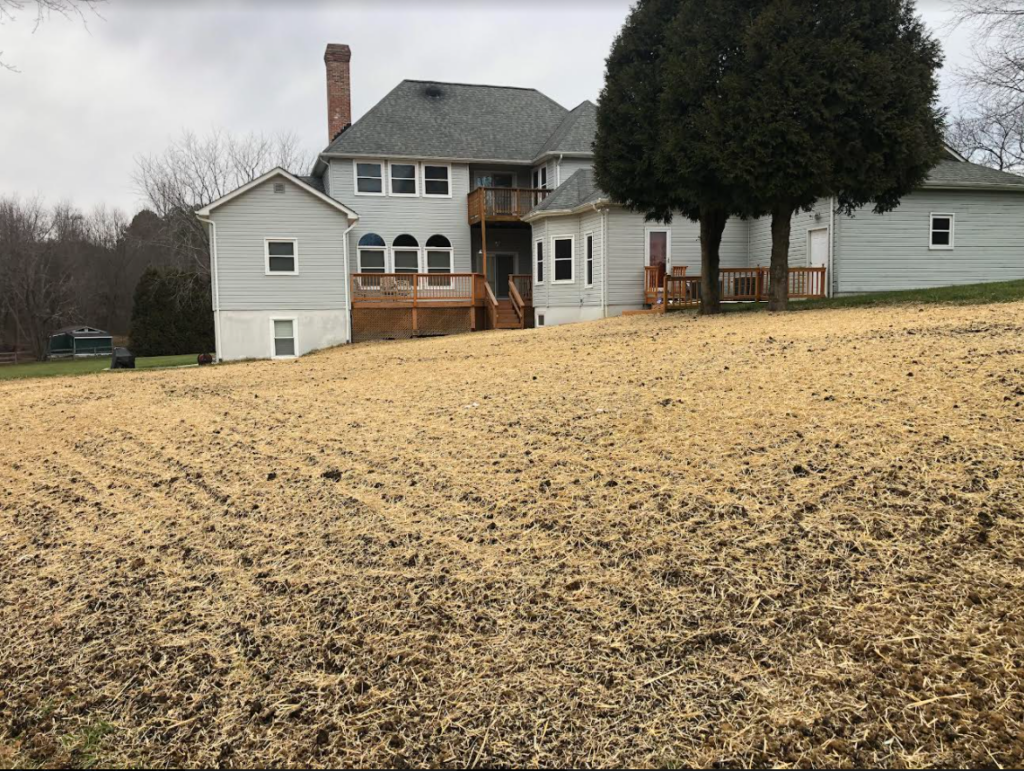 If you have an in-ground pool that your family has outgrown or has fallen into disrepair, call Carroll Bros. Contracting and Pool Removal. Our team will evaluate your situation and offer a fair estimate. Most importantly, you can trust us to work efficiently and quickly. That way, you can reclaim your backyard space. Schedule an appointment with us today!