Vinyl Liner Pool Removal in Eldersburg Maryland
For this Vinyl Liner Pool Removal in Eldersburg Maryland, the story starts like most, home owner put in the pool when their kids were young, they are grown and out of the house now and the pool just doesn't get the use it once had. So the home owner decided to removal the pool, instead of the expensive up keep of chemicals and electric to run the system.
Before Vinyl Liner Pool Removal in Eldersburg Maryland
The one difference in this project than with most was the significant grade difference from the home to the pool, and how we would correct that and help with drainage once the pool was removed. We got to work removing the pool, disposing of the pool and filling the area with fill dirt. At that point we could assess the grading and come up with a comprehensive plan to help make the back yard useable as well as drain properly, leaving now where water would accumulate during bad storms or heavy rains.
After Vinyl Liner Pool Removal in Eldersburg Maryland
As you can see from the pictures above the grade from the front to the back of the house was significant, so once we got the pool removed we got to work on grading the property so the home owner had a useable back yard. The pool elevation was built to help with grading so once removed we had to build up and swale the yard in ways to help alleviate any areas for water to puddle. once completed we did a layer of top soil, seed and straw and in a few short weeks you would never know a pool existed on this property.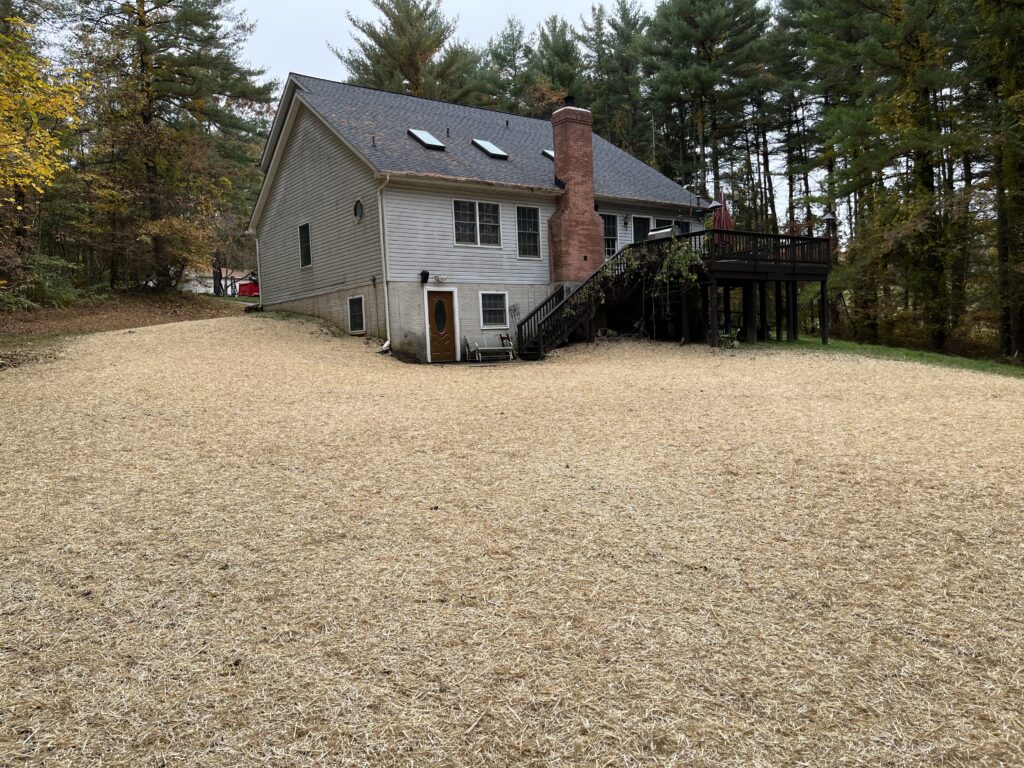 If you have an in-ground pool that your family has outgrown or has fallen into disrepair, call Carroll Bros. Contracting and Pool Removal. Our team will evaluate your situation and offer a fair estimate. Most importantly, you can trust us to work efficiently and quickly. That way, you can reclaim your backyard space. Schedule an appointment with us today!